Home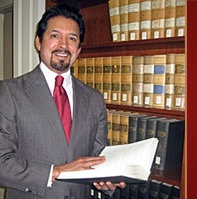 Welcome! Gabriel J. Zaragoza is a criminal trial lawyer with more than twenty-five years of experience and is ready to defend you. He defends clients who are charged with misdemeanor or felony crimes in state and federal courts. His office is available to you 24 hours a day and seven days a week. Call him now.
If you have been charged with misdemeanors such as driving under the influence (DUI), driving upon a suspended or revoked license, theft, fraud, assault, battery, possession of a weapon, drug possession, domestic violence, petty theft, drunk in public, prostitution, indecent exposure, hit and run and any other misdemeanor crimes, then contact him for a free consultation.
He will aggressively defend his clients who are charged with any felony crime including murder, assault with a deadly weapon, possession of a firearm, identity theft, fraud, robbery, burglary, "Three Strikes" violations, sex crimes including charges of lewd act upon a child, gang and firearm use enhancements and allegations, child abuse, elder abuse, insurance fraud, carjacking, car theft, felony drunk driving, vehicular manslaughter and all other felony crimes.
If you have been arrested or care about someone who has been arrested and want a trial lawyer who will protect your rights or those of your loved ones, then put your anxieties aside and receive sound legal advice from your lawyer, Gabriel J. Zaragoza. In his twenty plus years of trial experience, he has handled these types of cases. Let his legal expertise benefit you.
At the Law Offices of Gabriel J. Zaragoza your questions will be answered and your case thoroughly prepared. When you retain his services you will be represented by a trial lawyer who is knowledgable of the workings of the court and will do his best to help you avoid a criminal conviction.